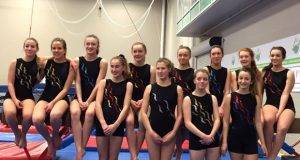 By: Kamloops This Week in High School, Sports February 23, 2016
A Kamloops team will compete at the B.C. High School Gymnastics Championships, which run in Burnaby from March 9 to March 12.
Students from Westsyde, Valleyview, Sa-Hali, South Kamloops and NorKam secondary schools are on the 12-person squad.
The team heading to provincials — the first from Kamloops to do so, according to a club press release — was selected based on results at a zone competition in Kamloops in January.
The sport was introduced at the high-school level in Kamloops this year and the team is coached by Kristyne Makortoff-Jones.