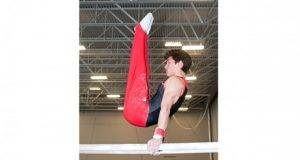 By: Adam Williams in Sports April 13, 2016
Scott Nabata isn't giving up on the 2016 Olympic Summer Games. Brock Nanson photo
He may not be in Rio de Janeiro right now, but Scott Nabata is still optimistic about where his season may take him.
Canada sent a seven-man team to the Aquece Rio Final Gymnastics Qualifier in Rio's Olympic Arena this weekend, with the aim of qualifying a team for the 2016 Olympic Summer Games in the Brazilian city in August.
Though he's not there, Nabata is following the team closely and hoping for the top-four finish Canada needs to be able to send a team to the Olympics this summer.
"Hopefully, they all pull through. It's going to be a close one, I think," Nabata told KTW.
"I'm hoping they do well and that gives me a better shot to make the actual Games. Either way, I'm hoping for a good outcome."
Despite being at home while his fellow Canadians compete in Brazil, the Kamloops Gymnastics and Trampoline Centre (KGTC) athlete hasn't dismissed his chances of wearing the Maple Leaf in Rio this summer.
While Canada is competing in the test event, vying for one of four spots against teams from Germany, France, Netherlands, Ukraine, Romania, Spain and Belarus, Nabata will be at home, preparing for the 2016 Canadian Gymnastics Championships in Edmonton in June.
It will be the 20-year-old's final chance to impress on Team Canada brass that he should be among the nation's competitors in the Games.
"This isn't the official team," Nabata said of the Rio test team. "If they do qualify, after this, it really depends on nationals and they'll make their final decisions, see how all the competitions this year have gone.
"After the Pacific Rim Championships, I feel decent about my shots — they're still getting higher to qualify for the team."
On the weekend in Everett, Wash., Nabata competed in the 2016 Pacific Rim Gymnastics Championships and made event finals in the high bar and the pommel horse, finishing seventh in both.
He helped Canada to a third-place team finish, behind first-place United States and second-place China.
This year's nationals will be Nabata's fourth and, after his results at the Pacific Rim Gymnastic Championships, which included athletes from around the world, he's hoping to take his performance to another level.
He's aiming to make between three and four event finals, landing on the podium in at least two. He also hopes to be top five in the all-around.
"I'm really going to put in a lot of effort in the next month and a bit just to try and improve as much as I can," Nabata said.