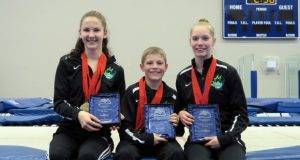 By: Kamloops This Week in Gymnastics, Sports April 26, 2016
Emily Schmidt, Gavin Dodd and Kristina Dodd show off plaques they won at the B.C. Gymnastics Championships in Langley earlier this month. Dodd Photography
The Kamloops Gymnastics and Trampoline Centre sent athletes to the B.C. Gymnastics Championships in Langley earlier this month.
In individual trampoline results, Gavin Dodd was first in 17-and-under Level 6 men's trampoline, Level 6 men's double-mini trampoline and Level 5 men's tumbling. He was also the overall National Level all-around champion.
Emily Schmidt was first in 18-and-over Level 6 women's trampoline, junior women's double-mini and Level 6 women's tumbling, capturing second overall in National Level all-around standings.
Kristina Dodd was second in Level 5 women's trampoline, second in Level 5 women's double-mini and first in Level 5 women's tumbling, placing third overall in the National Level All-Around competition.
Jaxson Coull was third in 17-and-under men's Level 6 trampoline and third in Level 6 double-mini.
Hannah Walker was second in 15-and-over Level 4 women's trampoline and Kristyne Makortoff-Jones placed third in 15-and-over Level 4 women's trampoline.
In men's artistic, Drew Kanigan was the Elite 4 all-around champion, while Yoshi Matthews placed 12th in the Level 3 (eight- to- 13-year-old) category.
Alexis Cloet won bronze all-around in Junior Olympic (JO) Level 6 competition, helping the Zone 2 team place fourth all-around.
Other top-10 finishes from local women's artistic athletes in their divisions include Brooke Topolovec placing seventh all-around, Rebecca Wharton finishing seventh all-around and Jemma Fitzmaurice placing ninth all-around.
In synchro trampoline, Gavin Dodd and Coull placed first in Level 5 men's action.
Makortoff-Jones and Brooklyn Luison were sixth in Level 3 women's. Genna Bruno and Grace Dickenson were second in Level 2 women's.
In team trampoline, Gavin Dodd, Kristina Dodd, Luison and Aurora Lewis were first in double-mini, while Schmidt, Kristina Dodd, Emma Guertin and Hannah Walker grabbed first in tumbling.