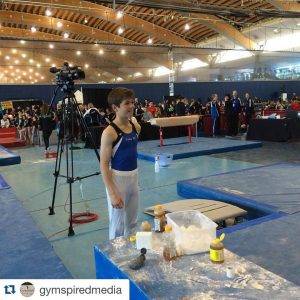 Team BC athlete Drew Kanigan gets ready for PBar finals.
BC Champion, Drew Kanigan travelled to Richmond May 4-7, 2016 as a selected Team BC Athlete at the Western Championships.
Drew Kanigan (Kamloops/KGTC), 2015 and 2016 BC AA silver medalist, won gold in the Elite 4 All Around, as well as silver on rings, vault, and horizontal bar, and bronze on parallel bars. Kanigan placed just ahead of current BC AA champion, Evan Fedder (Vancouver Phoenix), who finished with a silver medal in the All Around.