KGTC
Kamloops Gymnastics | Trampoline | Cheer
KGTC will foster the physical, mental and emotional development of its Athletes to achieve personal excellence inclusive of all abilites and goals, in the disciplines of
Gymnastics | Trampoline | Cheer.
---
KGTC - Kamloops Gymnastics | Trampoline | Cheer is a member-owned, not-for-profit athletic facility that inspires enthusiasm for and lifelong involvement in gymnastics, trampoline and cheer by providing positive and diverse programming. With an exemplary record of service to the athletic community since 1979, KGTC is the proud recipient of the 2012 Ed Brougham Club of the Year Award by Gymnastics Canada. KGTC has a well equipped, 15,000 square foot facility and is part of a mutli-sport Tournament Capital Centre that neighbours Thrompson Rivers University (TRU). KGTC is your place to imagine | believe | achieve.
---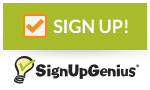 Visit SignUpGenius for
KGTC Volunteer Opportunities
---
Member Services Hours
(As of September 8, 2015)
Monday 9 am - 5 pm & 6 pm - 9 pm
Tuesday & Wednesday 9 am - 5 pm
Thursday 9 am - 8 pm
Friday 9 am - 5 pm
Saturday, Sunday & Stat. Holidays - Closed
---
Spirit of KGTC Awards
The Spirit of KGTC is an annual gala which shines light on all abilities and goals in the disciplines of Gymnastics | Trampoline | Cheer. Each of these disciplines has contributed to the vibrancy of KGTC through their participation and performance.
Each year the Spirit of KGTC will showcase and recognize members that support our core values and goals. They encourage REAL (respect, educate, assist, lead) values to each individual and support the idea of imagine | believe | achieve.
Important Dates and Upcoming Events
Aug 29 to Sept 7 - Gym maintenance, staff training & Labour Day weekend: NO programs
September 8 - All Fall 2015 programs begin
September 12 - 2nd Annual KGTC Spirit Awards Banquet
September 25 - Pro D Day Camp
September 29 - KGTC Annual General Meeting
---