KGTC
Kamloops Gymnastics | Trampoline | Cheer
KGTC will foster the physical, mental and emotional development of its Athletes to achieve personal excellence inclusive of all abilites and goals, in the disciplines of
Gymnastics | Trampoline | Cheer.
---
KGTC - Kamloops Gymnastics | Trampoline | Cheer is a member-owned, not-for-profit athletic facility that inspires enthusiasm for and lifelong involvement in gymnastics, trampoline and cheer by providing positive and diverse programming. With an exemplary record of service to the athletic community since 1979, KGTC is the proud recipient of the 2012 Ed Brougham Club of the Year Award by Gymnastics Canada. KGTC has a well equipped, 15,000 square foot facility and is part of a mutli-sport Tournament Capital Centre that neighbours Thrompson Rivers University (TRU). KGTC is your place to imagine | believe | achieve.
---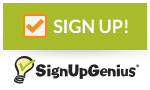 Visit SignUpGenius for
KGTC Volunteer Opportunities
---
Summer Hours
(as of June 22, 2015)
Monday to Friday, 8 am - 4 pm
---
March 18, 2015
It was an amazing past weekend and could not have been done without you!
A HUGE thank you and high-five to all our Volunteers - parents, athletes, coaches, staff and community partners that assisted and helped to make the KGTC Invitational - Wild West Fest, the 3rd Cup Provincial Trial and the 2015 Canada Cup a success! The Spirit of KGTC is ignited & will continue to embrace the principles of R.E.A.L. - Respect, Educate, Assist and Lead. It will not only continue to develop athletes, coaches, judges and volunteers but will also contribute to the development of well rounded individuals who will be healthier, happier and leaders into the future.
Every year, KGTC Volunteers embrace high profile events that not only mentor and motivate our athletes but also serve as a sport educational tool of the different disciplines. While our Volunteers are those that make it happen - KGTC is fortunate to have our amazing facility that enables us to host multiple events at one time. It is certainly a huge undertaking, but one we strongly believe is beneficial to our athlete community.
Thank you to Gymnastics Canada and Gymnastics BC organizations and staff for supporting these events and sharing our vision. Thank you to the Judges, Coaches and Athletes that travelled from across Canada to attend our events. Also a special thank you to the Athletes who participated in displays and demonstrations from KGTC and Okanagan Gymnastics Centre.
Please join me in thanking the event Volunteers and Coaches of the KGTC Gymnaestrada Team for organizing our fabulous Raffle Baskets/Items and the Organizing Committee who dedicated countless hours leading up to the 3 events (I estimate 90 hours per person). Also the KGTC Staff - Penny, Dana, Tammy and Sabina, and the Organizing Mentor Leadership Coaches who played a key role this year in assisting in planning - Tove, Hisayoshi, Yukiko, Lisa, Kristyne and Gail.
As we continue to streamline and make improvements to the events, please do not hesitate to let us know your suggestions and ideas - we always welcome this! These may be forwarded to Member Services (This email address is being protected from spambots. You need JavaScript enabled to view it. ).
Thank you all for the work you do to support KGTC and our athletes as they imagine believe achieve!
Important Dates and Upcoming Events
July & August - Summer hours in effect (M - F, 8 am - 4 pm)
July 20 - Fall 2015 Active Start and Recreational registration opens at 9 am
July 27 - 2015/16 Developmental and Competitive registration opens at 9 am
August 3 - KGTC Closed for BC Day
---