I'M THE ONE
WHO FLIES THE HIGHEST…
You are upside down, twenty feet in the air, experiencing a moment of weightlessness. For an instant, time seems to stand still. You peer down at the faces far below you, reach out to the sky and think to yourself: so this is how it feels to fly…
Trampoline is one of the most exhilarating sports there is. From the very first day, you can experience the thrill of leaping higher than you ever have before. Then, as you build your strength and skill, you can challenge yourself to go higher and higher. The sky really is the limit.
Whether you already enjoy bouncing in your back garden or want a thrilling way to get fit, you will find a lot to love about trampolining. With classes for adults, teens and children as young as eight, getting started couldn't be easier. First you will learn how to perform single aerial tricks and maintain your rhythm. Then, as your skills and confidence grow, you will build up some incredible big-air stunts. If you want you can even show off your stuff at one of the competitions for your age group. Of course, if you would prefer to bounce just for fun and fitness, that's great too.
---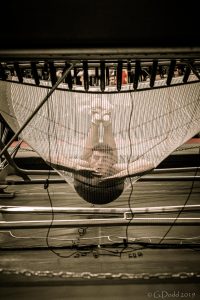 Our Trampoline Gymnastics (TG) program trains boys and girls for three levels of competition: Provincial, National and Elite. Each athlete is encouraged to compete at the level that is a fit for their ability, commitment and age.
Our youngest members are in a fundamental program and train 1 – 2 hours, once a week. Our developmental program train a minimum of 2.5 hours, twice a week. Our Provincial Level program members train a minimum of 2.5 hours, three times a week.
Once our athletes get to higher levels, they train with us 3 or more times a week in a year-round program. They devote up to 19 hours to training each week, depending on their specialized apparatus, degree of commitment and competition goals.
We place our athletes in training groups according to their age, ability, number of days committed to training per week, and their competitive goals. These goals are set in consultation with their coaches and the options open to them at their age.
Who is this program for? Boys and girls with a strong work ethic who enjoy bouncing, want to develop trampoline gymnastics skills, and who are committed to training once to three times a week.
How do I register? You may register online or in person.
Ready to become a TG athlete? KGTC provides a safe, friendly environment with professional coaches to help you learn. What are you waiting for – Join KGTC today!
Class info:
1 to 2 hours, once a week.
Programs run from September to June (10 mos).
Classes are grouped by age, ability and training schedule.
Family Participation Plan may be required.